You may have noticed the "foosball table" sitting in the Law Library's main floor near the restrooms — all wrapped up and just waiting for attention.  Well it was recently unwrapped and …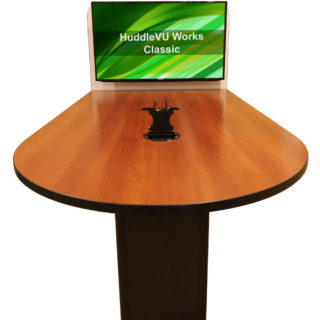 IT'S NOT A FOOSBALL TABLE!
Some speculated it was an air hocky table.
No such luck.
It's actually a collaboration station from FSR INC.  These folks from FSR have loaned us this table to see if it is something our students would find helpful.  This table is similar to those made by other manufacturers except that this one is supposed to take NO setup time for the user — all that you need is a device that you can connect via an HDMI cable.
As of this writing the table is still in the configuration stage but it should be functional very soon.  Please check back here for updates.
Here's the blurb from FSR INC. on the HuddleVu station:
"The HuddleVU system allows for multiple users to share and view their laptops, tablets, and smart phones screens on a main display. Unlike conventional presentation systems, anyone participating can be a presenter or the audience at any given time at the push of a button. LED's indicate which user is currently live and when the system is busy to each user. HuddleVU creates the ideal environment for people to view and share ideas. The systems include all the necessary video switching equipment, control hardware, display power control and color-coded captive HDMI cables. It is a very simple yet effective system to quickly install and use."
Here's a promo video for the HuddleVu
If you like this product or like the idea of it, please let us know by sending an email here.