Interested in recording your class? Panopto is Pepperdine University's lecture capture system. The software is installed on every classroom computer and is simple to use.
If you plan on recording your class more than once a semester, please contact support@law.pepperdine.edu to request an account. You'll get your recording links emailed to you automatically if you have an account.
There are different recording options, such as:
Audio– all recordings capture audio by default
PowerPoint– records the presentation slides you show on the class computer by default
Video– available for classrooms with cameras, records the front of the room only
Primary Screen– records any applications you use on the class computer, such as Word Documents, Web pages, Excel Files, TWEN Course page, etc.
1.) To start, click the Panopto icon on the desktop

, or search for Panopto in the Windows Start Menu to launch the application.
2.) The default login will autofill. If you need the password, call the IS Help Desk, or pick up the in-room IS Support Desk help phone to be automatically connected to the help desk. Feel free to use your own username, if you have one.
3.) Double check that the settings you prefer are selected. Then click the Record button. You can minimize this application (don't EXIT or close the program or shut off the computer) to show your class materials.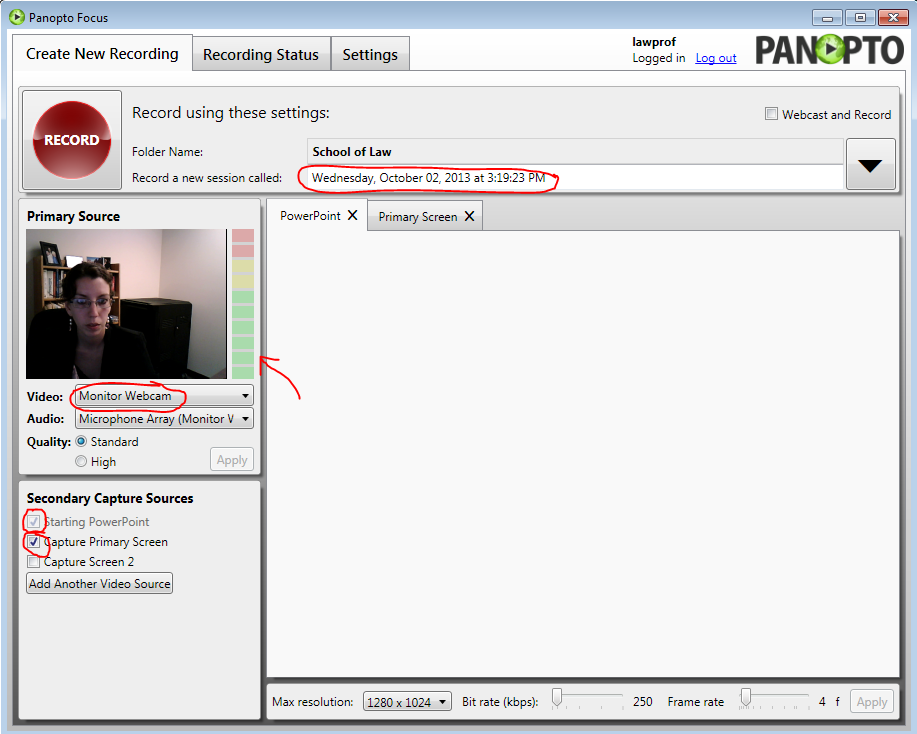 4.) When your class lesson is over, click the Stop button.  Once you click stop and the recording begins to process, it's okay to minimize the Panopto screen and leave the classroom. Contact the IS Help Line for help retrieving your recording link.