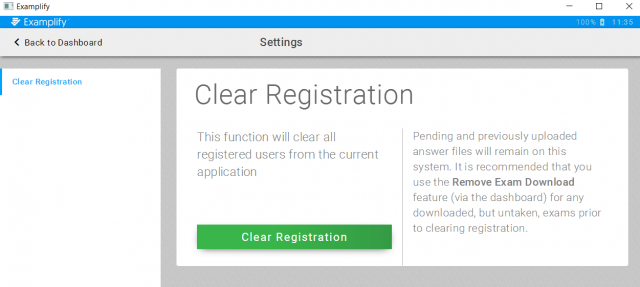 Be Sure to Double-Check Your Assessment Number in Examplify!
If you have logged into Examplify recently and noticed that the wrong Assessment Number is listed on your next exam, then you will need to clear your ExamSoft registration to correct the assessment number mismatch.
If your assessment number listed in Examplify doesn't match, this means your software isn't properly registering with the ExamSoft portal to automatically update your assessment numbers from the previous semester. Unfortunately, this means your old assessment ID may still show up on your midterm file instead of your current number.
This issue should be resolved before finals. However, before your next midterm, make sure your assessment number matches your current number listed in WaveNet. If you don't, your exam may be submitted with an incorrect assessment number.
Please follow the below steps to update your assessment number.
First, check if your Assessment Number listed in Examplify matches the number in WaveNet. If it doesn't match, proceed to step 2. If it does, you can stop reading!
If your Assessment Number does not match and you have already downloaded an exam, click on the exam and then choose "Remove Exam Download" from the right-hand menu. If you don't reverse download your exams, you will lose access to all exam files you had previously downloaded before clearing your registration.
Once you have ensured you don't have any downloaded exam files for upcoming exams, you can clear your Examplify registration by opening Examplify and selecting the Home Menu and then select Settings in the drop-down menu.
From the Settings menu, click on the Green Clear Registration Button.
You will then be prompted again to confirm that you want to Clear Registration. Click the green Clear Registration Button to complete the clear registration.
For more information, check out ExamSoft's help article for clearing your registration.