Some of you may have heard of this really cool option in Windows 10 to randomize your MAC address for security purposes.  However, the Pepperdine Wireless authenticates your machines based on your MAC address, so if you have it on or accidentally turned it on, you will not be able to connect reliably if at all to the Wireless at Pepperdine.
To turn Random Hadware Addresses off
1.)  Click on Network Settings
2.) Click on manage Wi-Fi settings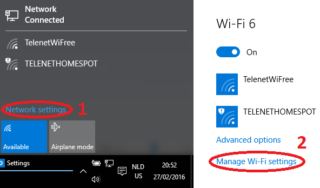 3.)If you don't see Random hardware addresses, congratulations, your hardware doesn't support Random hardware addresses. Otherwise ensure that "Use random hardware addresses" are turned off.