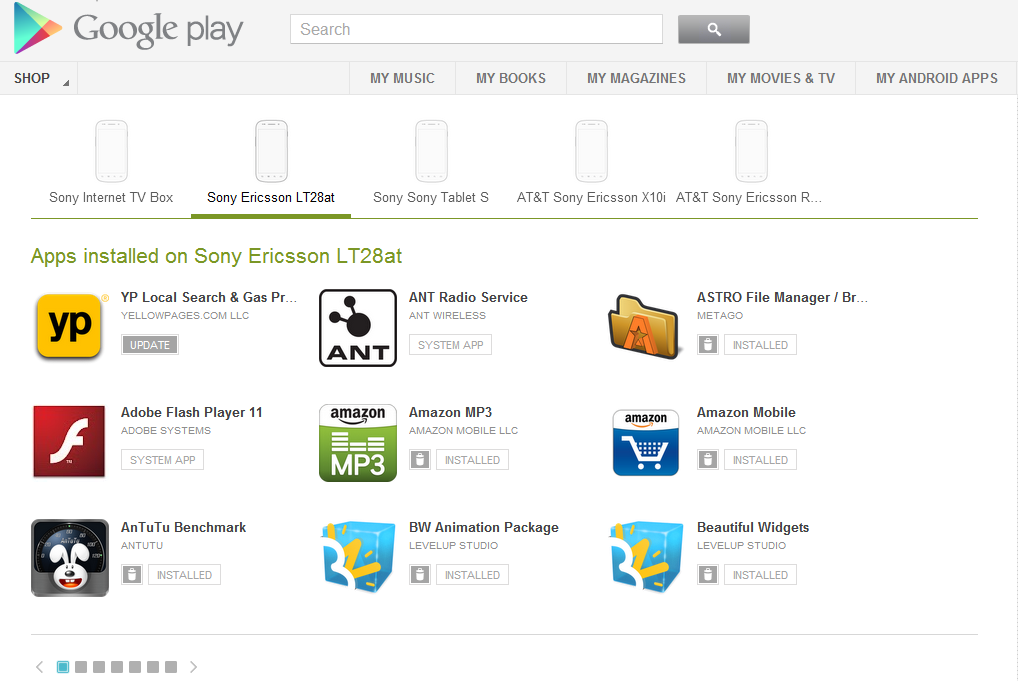 As we increase the number of personal electronic devices we interact with from day to day, it can become increasingly challenging to stay organized. Some organizations have helped ease the burden in one way or another, from AppBrain to Amazon, and now finally Google. Last year Google added a feature in what was then the Android Market, where you could install apps from the website onto your device. As part of the ever-improving Google Play Store, Google has gone a step further. You can now install or uninstall apps from the website. and can also see all of your connected devices in one place.
As you can see in the image above, all my devices are listed, and I can selectively update apps by device. Every app I've installed in the past is there as well, in case I want to re-install anything. This is a feature that was quite useful in the Amazon App Store, and is even more so now that Google has a version too. I have used the website to install, update, and delete apps on my Google TV, current and former phones, and my tablet. The best part is that I don't have to have the device in front of me. This could potentially set the stage for improved remote management features, which are highly-desired in the enterprise arena.
The one issue I have encountered with the device is the presence of a phone I no longer use. I connected to the app store from a demo unit I received from Sony Ericsson a while back, and it is prominently displayed among my other devices. Adding a device management element will help propel an already useful feature that much further. At the moment I am unsure whether Apple offers a similar feature, but I don't anticipate Apple will lag too far behind on matching or improving upon this.
If you are an Android user, hopefully this can help you keep all your apps organized. I already enjoyed updating my phone contacts through my Google account, and now I can manage my apps. My devices span from Honeycomb to Ice Cream Sandwich, so if you are on Eclair or earlier you might need to confirm this works for you. If any iOS users know of a comparable feature, be sure to let us know in the comments.