Dr. Margaret Riel of the Graduate School of Education and Psychology presented at the 2013 Technology and Learning Conference on the topic of "Video Conferencing and Real-Time Note Taking".  Students in the Master of Arts in Learning Technologies program collaborate synchronously, or in real-time, using Google Hangouts and Google Documents.

Google Hangouts is a free online Web conferencing tool. Up to nine people can video chat with each other, which makes this tool great for small group collaboration. There are also Screen Sharing and Google Drive Collaboration capabilities. Dr. Riel's students use Google Drive (also known as Google Documents) to take collaborative, real-time, notes during their sessions. Each person can edit the Google Document, so there's no need for version control or a single person responsible for meeting minutes.
When asked why her class utilizes Google Hangout as opposed to other Web conferencing systems, she stated that Google Hangout allows for students to speak without a moderator or activating their microphone. This "free flow" of communication allows for a more collaborative atmosphere. Students don't have to wait to give encouragement and feedback. In addition, the open microphone results in ambient noise that causes a feeling of "being in a shared space together", as opposed to the silence and isolation that is sometimes associated with moderated Web conferencing rooms.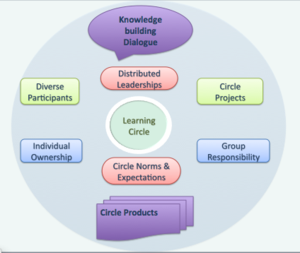 Another topic Dr. Riel discussed was that of "learning circles". The learning circle model is a mechanism for organizing collective learning within a group.  Dr. Riel's students contribute to learning circles by sharing their progress on academic research and giving input in an open discussion. This aspect of the model is called "Knowledge Building Dialogue". They learn from each others' strategies and actions and use feedback from the collaborative circle to improve their individual work. The Diverse Participants result in a variety of shared perspectives and insights that can help shape individual work.
More to Come
We look forward to sharing more from the conference in the coming weeks and look forward to future conferences. In 2011 at the last conference we were privileged to have one of our own professors (our own Greg McNeal) give a compelling presentation on Turning Technologies ResponseCards (Classroom Clickers). We encourage all the faculty to consider attending and presenting at future conferences; let us know how we can support you if you are interested.