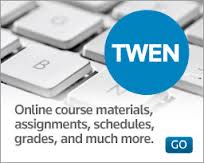 TWEN, The West Education Network (http://lawschool.westlaw.com): This is an online course management system where students' can access course materials, submit assignments via Drop Box, sign-up for office hours (if available), take polls and quizzes, participate in class discussions, and exchange e-mail messages with your students.  The extent of your class TWEN usage is up to you, the professor, and your course objectives and goals.
Register on TWEN: In order to use TWEN you must first register your username and password. If you have already done this in order to use Westlaw, then you do not need to re-register for TWEN .  Westlaw, Westlaw Next and TWEN are all included in the same web site and registration is only required once.
For more information on TWEN, attend the Coffee Talk session on June 27 from 2-3 pm in the Law Library Learning Lab (Room 219). Melissa Hagar will be presenting on commonly used features.