Don't let the name fool you. This has nothing to do with Google Buzz. AT&T Interactive released a new service today on buzz.com. What is AT&T Buzz? It is like Yelp meets Google Places meets Yellowpages.com. Buzz is supposed to enable you to recommend places to your friends, and get recommendations in return.
The service is still in beta, but was just released to the public today. It is fairly easy to use. You can sign up for an account or log in through Facebook Connect with your Facebook credentials.
There are some mini-tutorials on the site to help you get started. Check out the image below to see some of these tutorial options.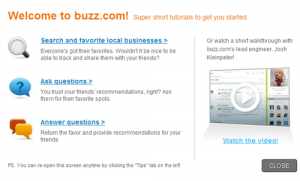 If you use Yelp, this could be useful for you. The service lets you interact with your friends on Buzz.com or on Facebook. Comments on one site will appear on the other. I am not sure why they chose to go with the name Buzz, considering Google is already well-known for the name, but we'll see if this helps or hurts them. We'll be checking the service out further here at SOLIS, and will provide more information as it becomes available.