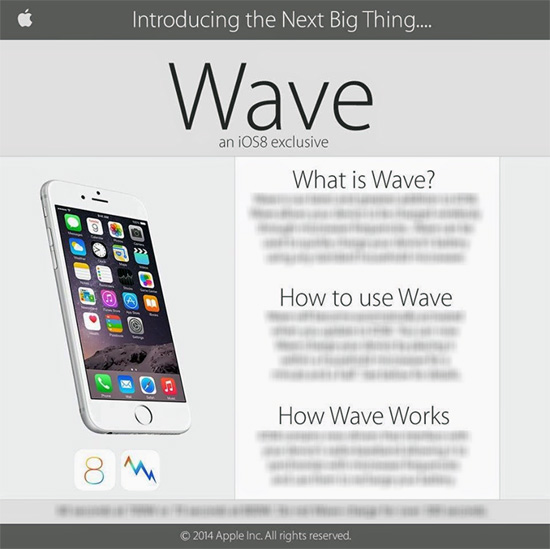 The image has been blurred to avoid perpetuation of the hoax.
PSA
You may see an advertisement about a new feature for iOS 8 called Wave. Please disregard this ad. You cannot charge your iOS device via your microwave. While the ad may look convincing, it did not come from Apple.
The launch of a new operating system, whether Android or iOS, provides opportunists a chance to mislead unwary consumers. With modern editing tools, it is easy to convince people that fake ads originate from the claimed source – in this case Apple. While it is possible the ad was simply a prank, it is also just as possible it is malicious in nature, and there will be very real consequences for those who unwittingly destroy their phones. Please do not use your microwave to charge your iPhone. Always be wary when ads like this come out. Check for substantiation from trusted sources, and particularly on the brand's web page.
For those of you currently using iOS 8, please continue to enjoy the real features of the upgrade, while safely avoiding hoaxes like Wave.