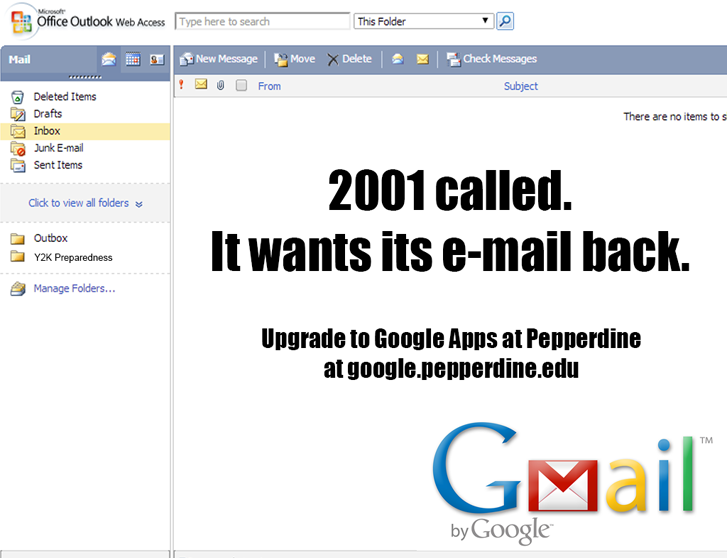 Email, and the way we send and recieve it, has evolved in the years since it was first introduced.  More and more today, we get overloaded with e-mail, with overflowing inboxes and not enough storage to hold it all.  And recently, Pepperdine has introduced a new tool to help combat your e-mail overflow – Google Apps at Pepperdine.
Why should I change?
You can keep your @pepperdine.edu email address, but use Google's advanced email interface – without ads. It comes with a powerful spam filter and 30GB of free space to be shared among all available Google services. Google's powerful search engines means an end to email folders, no more Outlook or .PST files, and your e-mail syncs seamlessly to whatever mobile device you choose.  You'll never run out of space in your Inbox again, and with threaded conversations, replies to an e-mail get filed along with the first one, giving you a message-board like experience to help tame your inbox.
Ok, I'm in!  How to I switch?  What does it involve?
First off, know that your old e-mail is safe from deletion.  It will continue to live at webmail.pepperdine.edu, and you can switch back if you decide you don't like Google Apps.  The switch is fairly straightforward – first you set up the account, then you redirect any new e-mail to it, then you set it up to send e-mail.  I'll cover setup on a mobile device in a later post.
Another quick concept – you have two e-mail accounts at Pepperdine.  One is your wavenet username @ pepperdine.edu, such as jdoe2@pepperdine.edu, and the second is your long-form email, such as john.doe@pepperdine.edu.  I'll walk you through how to change both to Gmail.
Sign Up for the account.  

Visit google.pepperdine.edu and click the giant blue "Sign Up" button.
Redirect your e-Mail.  Visit networkid.pepperdine.edu and click "Redirect"Then choose "Click Here to Continue" at the bottom.Then choose "Use Google Apps" and confirm any questions.
Sign in to your new account!  Visit mail.google.com and sign in with your wavenet username @ pepperdine.edu, i.e. jdoe2@pepperdine.edu.
 You can also click the E-Mail button in Wavenet.
Welcome to your new inbox!  Within ten minutes or so, all new email sent to your e-mail addresses will be delivered to your new Google inbox.
Now we need to setup Gmail to send e-mails from your long-form Pepperdine address – In this example, it only is set up for jdoe2@pepperdine.edu, but now we need to set up john.doe@pepperdine.edu.  Click the gear in the top right, then click Settings.Next, click Accounts, and then "Add another eMail address you own"Now we need to add the long-form e-mail address, so fill in the information with your name as you would like it displayed ("John Doe" in this case), and your long-form Pepperdine e-mail address (John.Doe@pepperdine.edu).  Click "Next", then "Send Verification".You'll need to verify that you own that e-mail address, so check your new inbox for an e-mail seeking verification.  It may be in your Spam – check on the left hand column under "More" for "Spam".  If it is there, click "Not Spam", then find it in your inbox and click the verification link.
You're all done!  If you want, you can set your long-form Pepperdine e-mail as the Default e-mail, to use it instead of the short jdoe2@pepperdine – that can be done under the Accounts menu.  Enjoy all the features Google Apps has to offer!