There's good news for iphone & ipad users looking for a simple and effective way to record, store, and share  audio from your iDevice. Dropvox from Irradiated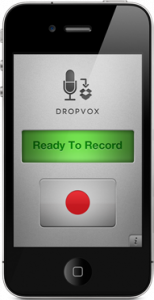 Software allows iDevice users to easily record high quality audio straight to your personal dropbox. Set up is  very straight forward, enter your dropbox credentials, and you are ready to record!
Of all the products I've tested for recording and sharing voice memos via iphone, Dropvox has been the most user friendly, and is extremely reliable assuming you have a strong internet connection. The only major drawback of this product is that without a strong network connection, be it 3g, 4g, or wifi, you will lose your recording if dropvox is used with no connection. On the flip side, however, dropvox eats up no additional space on your iDevice storing hard copies of the recorded files.
So if you are an iDevice and dropbox user, Dropvox is a powerful addition to your tool set. You can capture lectures, create podcasts, record meetings, perhaps memoires for a new book your writing. Whatever the purpose, dropvox offers a simple way to to record, store, and share your recordings as you see fit. At a cost of $2.00, I'd say that's money well spent.
Requirements: Compatible with iPhone, iPod touch, and iPad. Requires iOS 4.0.2 or later.