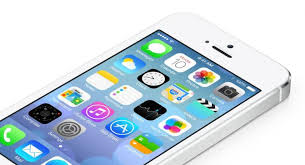 One thing Apple is known for is constantly changing. The new iOS7 is definitely a new system and a new image. The reason that iOS7 looks so different, is that Apple wanted to provide their users with a more pleasurable experience for their users. For instance, the Weather App has a background that changes depending on the weather outside. Even the color of your background dictates the color of your call and lock screen. There are a couple of new and improved features Apple has provided for their iOS7 users:
Closing Open Apps: With iOS6, you could double click the home button and it would open a screen on the bottom showing the open apps icons. From there, you would be able to hold down the app and then you would click on the "x" to close the open app. Now once you double click the home button, it takes you to a screen where you see the page of the app open. You simply swipe the page upward  to close the open app. Closing apps also saves your battery.
Control Center: Simply swipe from the bottom of the screen to access the menu screen. There, you can control brightness, music, select the mode of your phone (airplane, Bluetooth, Wi-Fi, do not disturb, and orientation). You also have quick links to the camera, flashlight, calculator, and compass. In earlier iOS versions, you need to go to individual menus to change or control these options.
Camera: The camera now allows you to take a still, panorama, video, or square photo. Another new feature is that you can add a filter to the photo before taking the photo.
iTunes Radio: This is accessed through your music app. Simply click on the music app and the Radio is on the left hand side. You type in an artist or a genre into the channel to listen to the preferred music. You can also click the star and say you would like more songs like the one you are listening to or that you never want to hear that or similar songs again. In the station you are listening to, you can edit the options if you want to listen to hits of that station or low profile artists. You are given 6 skips every hour.
AirDrop: With this new application, you can share photos, videos, and much more with other nearby iOS7 users. AirDrop is sent over Wi-Fi and Bluetooth.
Search Bar:  Simply drag from the middle downward to have the search bar drop appear.