We wanted to make all users aware of a few tips for taking exams with Examsoft Examplify.
1. Restart your Computer BEFORE Exams – Sometimes we fail to realize how long it has been since the last time we restarted our laptops. Restarting your laptop will help speed up the performance of your computer, as well as install critical updates. This will help your machine operate faster during finals, especially when working within a program like Examplify. Restarting will also close down installers and other programs that may be running in the background and slowing down your laptop's performance. There is nothing quite as frustrating as having your machine take forever to load your exam, or upload your answers once you have completed the test.
2. Be sure to Quit Spotify Before Taking an Exam – Students at other law schools have reported issues with Examsoft from having Spotify open on their laptop when they open Examplify. In order for Examplify to work, it needs to lock down your computer into the exam environment. However, Examplify sometimes struggles with closing down the Spotify program and this can cause your computer to bog down or freeze in the middle of an exam… so for the sake of your own sanity, please make sure you quit the Spotify program Before you open Examplify.
3. Spell Check – Spell check is a very handy tool for exams. It is built right into the Examplify system now so it should work automatically. This is similar to most word processors like Microsoft Word where misspelled words are underlined in red.
4. Word Count – Word count is a helpful feature in Examplify and is absolutely necessary for certain exams. However, it can be tricky to use sometimes. The character count automatically displays above your answer text box. Don't be fooled by this number though, this is NOT your word count.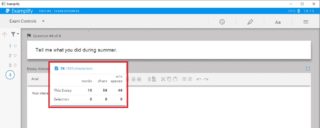 You can view it easily from this line though. To see more information, you can click on the paper symbol next to the character count. This window provides the total number of words, characters, and characters without spaces for the essay response. If text is selected in the current question, Examplify provides the same information for the text that is selected. This tool will help you keep your essays within your instructor's specified parameters for the exam.
For more helpful tips from Examsoft, please visit their Exam Taker Tips page.