For anyone who has sat, waiting and watching the little spin wheel, spin on and on endlessly after attempting to launch an exam in SofTest, your wait is over!
We've outlined a few simple steps below to prevent this from happening when trying to open your next exam. Also, if you've ever exited SofTest but found your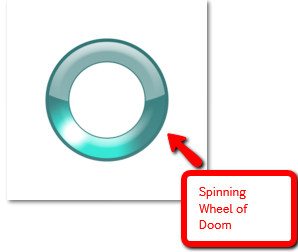 desktop background was stuck on the Examsoft background, this should prevent that from happening as well.
Open your computer's Task Manager. In Windows 10 you can access your task manager by pressing [CTRL + ALT + DEL], and select the Task Manager. If the Startup tab is not visible in Task Manager, click on the "More Details" arrow.  On pre-Windows 10 OS, you can access the task manager by pressing the Windows key and the (r) key simultaneously. In the window that appears, type "msconfig" without the quotes and press enter. Then select the "Startup" tab from the popup window, and follow the next steps.
Under the Startup tab, a list of applications will be present. It is advised that all third party or "after market" applications on this list be disabled to ensure they do not cause a conflict with SofTest, e.g. Spotify, Google Drive, etc. Select each application in the list that is currently enabled and press the "disable" button in the bottom right of the task manager window.
Once all the identified applications have been disabled, restart the computer. 
After restarting, try taking a mock exam again in SofTest v11. SofTest should no longer experience any hanging or freezing before entering the exam.
All other recommendations regarding minimum system requirements for SofTest v11 should still be followed to avoid issues when using SofTest v11. These include temporarily deactivating your any third party Antivirus installed on the device, and only using a user account with administrative privileges on the computer.
You should re-enable all desired startup programs after finals are over, especially your antivirus!
If you have any difficulties following the above directions, please stop by our IS Support desk in the Library for assistance with disabling your startup programs. We hope this helps and best of luck on finals!