A couple weeks ago Google announced a new feature on Google Scholar. In a blog post entitled Finding the laws that govern us they explained this new feature. You can now use Google Scholar to search for full-length legal opinions from U.S. federal and state district, appellate and supreme courts.
Designed to empower the common-folk, this feature should be especially useful to our law students. Not only is the full-length opinion available, but references and citations regarding related cases are noted as well.
To search for these legal opinions, visit http://scholar.google.com.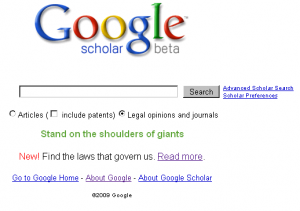 As this image indicates, there is a radio button you need to select for "Legal opinions and journals". They are currently referencing the blog post as well. It is worth reading, as it explains the reasoning behind the project as well as the particulars.
Google Scholar has been a useful tool for research in the past. This new feature makes it even better. Check it out, and come back to let us know if it is useful to you. We welcome your comments.