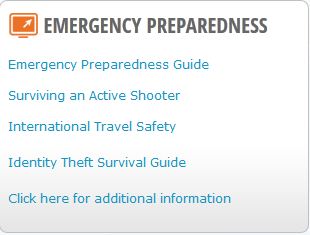 Members of the Pepperdine community should be aware of all of the resources the University has made available regarding emergency preparedness. The Office of Insurance & Risk, the Department of Public Safety, and the University's Emergency Operations Committee (EOC), in cooperation with many other departments, work to ensure that Pepperdine is prepared for emergencies when they impact any of the institution's schools or departments.
Reporting an Emergency:
To report an emergency on the Malibu campus and at all other domestic University campuses, call 911. Then please call the Department of Public Safety at (310) 506-4441.
Being Informed During an Emergency:
Emergency Information Web site
Pepperdine University also keeps an updated Emergency Information Web site informing community members of the current status of the campus: http://emergency.pepperdine.edu/
This Emergency Information Web site may be accessed via a link on Pepperdine University's Home Page at anytime. You may wish to save the URL for easy referencing in the event of an emergency impacting Pepperdine University in Malibu, or any of its campuses. During an emergency, information on this site will be updated regularly to keep students, faculty, staff, and family members informed with accurate and current information.
Toll Free Emergency Hotline
You can also call Pepperdine's Toll Free Emergency Hotline: (888) 286-5659.
Everbridge Aware Emergency Notification System
Everbridge Aware is the University's mass notification system.  The system allows the University to send a message to University faculty, staff and student cell, office, and home phones, as well as send text message, and email.  The system is only used during emergencies and for testing.  The system is dependent on the personal contact information provided by each individual in the WaveNet portal. The WaveNet portal data is uploaded into InstacomTM on a weekly basis. Please ensure that your contact information is up-to-date by following the instructions found at http://emergency.pepperdine.edu/emergency-communication/
Active Shooter Response Training:
The following content was written by the Dean's Office.
"In order to enhance our environment of preparedness at Pepperdine University, the Office of Insurance & Risk and the Department of Public Safety have partnered to create an active shooter best practices training which will be rolled out to all University departments. This training is designed to help employees think through how they would respond to an active crime event wherever they might be, now or in the future.
While the chance of being present at an active shooter event is extremely rare (one is 10 times more likely to be hit by lightning), it is important to arm our community with tools and best practices to remain safe on our campus and in daily life. To address these fears, the training offers perspective on these events, includes information on what Pepperdine University does to prevent these types of incidents from occurring, and concludes with an opportunity for employees to ask questions.
The training for Law Staff/Faculty takes place on Thursday, June 13 at 9:00 AM.
Prior to the training, we ask that each employee take 20-minutes to watch the "Shots Fired: On Campus" video available in WaveNet which describes best practices for surviving an active shooter situation. The video is found by clicking on the "Surviving an Active Shooter" link within the Emergency Preparedness box on the right-hand side of the screen."
The "Shots Fired: On Campus" video is also available to students via WaveNet. For more information on Emergency Preparedness, you can view a guide on WaveNet.