Two different problems are both solved by one great service largely unknown to Pepperdine users: Secure Attachments.
This service powered by Accellion is available to anyone with a Pepperdine email address and allows sending even very large files via encrypted email attachments. Normally the attachment size for files in email systems is restricted and most users don't have much email quota to spare. Accellion gets around this by using a web-based email client and receipt system. Since nothing but a link is sent in the actual email, all these files are encrypted for the best possible protection.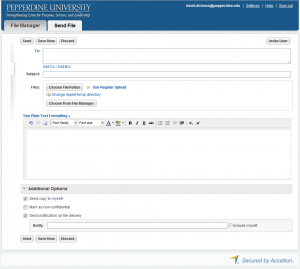 After logging into https://attachments.pepperdine.edu/ Accellion provides a web-based email client that allows user to attach large files (up to 20GB) for sending to others. To be able to login and use Accellion, users must have a Pepperdine email address, but Pepperdine users can email attachments to anyone!
Additional features such as notification on delivery are available.