It's hard to keep up with all the new bells and whistles of MS Office, since Microsoft comes out with a new version every two years or so. In this post I'm going to share with you some new updates to MS Office 2010 that you may have overlooked. I hope these will be useful to you in your personal and professional endeavors. Don't miss out!!
Instant & Easy Screenshots
Did you know that MS Office tools now provide you with a faster way to take a screen shot and paste it into a document, worksheet, or presentation? All three applications (Word, Excel, and PowerPoint) are equipped with the ability to instantly capture screenshots. Simply click on the Insert tab – then select Screenshot (see image below). You have the option to either take a screenshot of your entire screen (an available window) or choose a selection (screen clipping). Once you make the selection, it is automatically added to your document, worksheet, or presentation.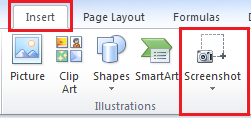 Customize the Ribbon
Now you can customize each application in order to make them more relevant and appropriate for your unique needs.The ribbon is the menubar that you see across the top of the screen in Word, Excel, and PowerPoint. See image below.

There may be items in this ribbon that you use more than others. Or perhaps there are elements that you use that are not easily accessible on the ribbon. To customize click on the File button in the top left-hand corner of the program. Next, select Options, then select Customize Ribbon. Your options will vary depending on what program you are using. Below is an image of the customizable options for Word.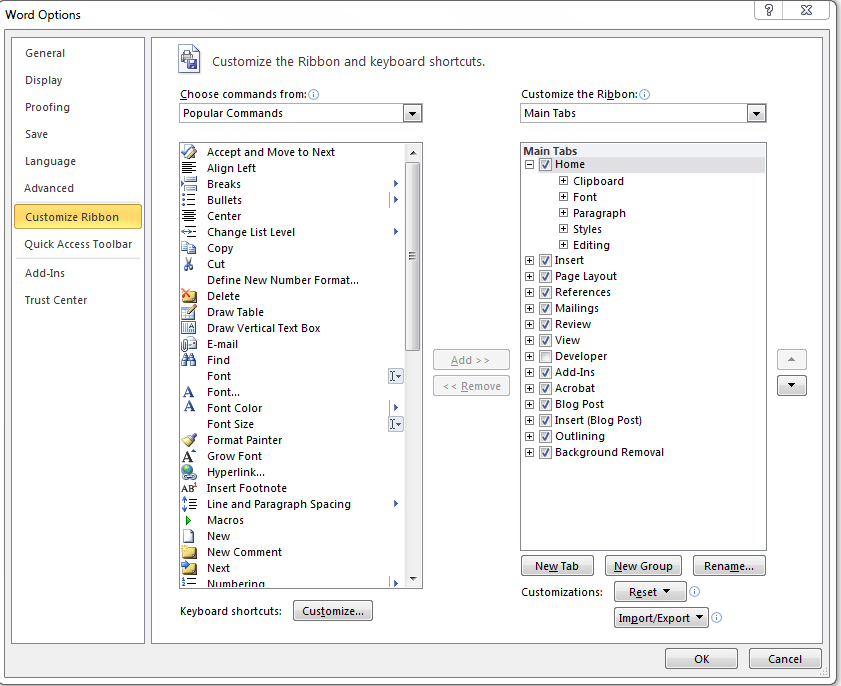 From this area, you can add items on the left side (commands) to the space on the right side (Main Tabs). You can also un-check certain elements on the right side to remove from the current ribbon. And if you make a mistake and un-check something that you do use, you can always come back and check it later.  One thing I would recommend doing is taking a look at the commands that are not on the ribbon. To do so, where it says Choose commands from (on the top left-side of the window), change Popular Commands to Commands Not in the Ribbon.  This will show you some options that you don't typically see, but may be useful. If you see something you like, click on the Command and then click on the Add button to add it to the Main Tabs. After you are done making changes, click OK at the bottom of the window and you now have your own custom Ribbon. Enjoy!