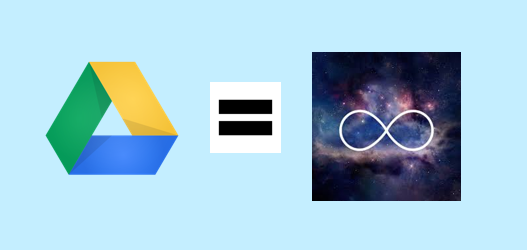 That's right, you read that correctly, you now have access to unlimited storage on your Google Drive through your Pepperdine Google Account. Don't have a Pepperdine Google account yet? Don't worry, it's easy to get started! All you need to do is go to google.pepperdine.edu and click the "sign up now" button and complete the quick signup process. Once you've finished setting up your account, you will have access to the unlimited data storage available on Google Drive. Unlimited, as in infinite, endless, limitless! You may wonder, "How is this possible?" It's all thanks to Google's efforts to provide increased storage options for their Google Apps for Education users. They have been slowly rolling out the change to other institutions and Pepperdine University has now been added to the list of users with infinite storage!
In case you were wondering exactly what you can store on Drive, the answer is pretty much anything you store on your computer. Word documents, PowerPoint presentations, PDF's, Excel sheets, pictures, images, and even videos can all be uploaded and stored in Drive. Just keep in mind, when you upload your files, Google will ask to convert the file to it's version of the particular product (i.e. Word becomes Docs, Excel becomes Sheets, etc.). However, if you prefer not to use Google's version, you can easily select to not convert your files when uploading. This may limit some editing functionality within Drive, but you can always download your item again to edit it on your computer.
You might also be wondering why you would want to use Google Drive. Well aside from the fact that it gives you unlimited storage to store all those selfies and pictures of your food so they don't fill up your phone, tablet, or other devices… Drive also allows you the option to store all your items in the cloud, so they are available from pretty much any device with internet access. Drive also comes with its own app for Apple and Android devices, which offers easy access to any item stored on Drive.
We hope you take the chance to maximize your data storage options with Google Drive. For more information or to sign up for your Pepperdine Google account, simply click below to get started!