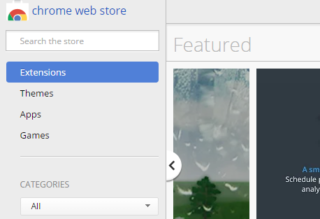 With the University's move to Google Mail this last year, the IS team highly recommends that anyone using Pepperdine email should consider making Google Chrome their default browser. Google Mail is a Google product, as is Google Chrome, so it makes sense that they work quite well together. Once you've made the switch, you will be happy to learn that the smart people at Google have created some pretty cool extensions you can add to your Chrome browser that will make your browsing experience and life in general, a whole lot cooler, at least from a techie's point of view. What are extensions, you ask? they are essentially add-on tools that can help improve how you use your Gmail inbox or any website for that matter. So to kick off the new year, we've compiled a short list of extensions to try in 2017.
You can easily browse and add extensions and other apps by going to the Google Chrome Web Store.
1. Grammarly
Topping off our list is the tool Grammarly. If you are good at solving puzzles, you may have already guessed what Grammarly does, that's right, it improves your grammar. It corrects spelling and most common grammar mistakes, like where to put a comma. You will also find that when you see it underline an error, it will not only correct the error for you when you select it, but it will also tell you what you did wrong so you can avoid making this same mistake in the future, say on an exam, and will help make you a better writer.
2. Momentum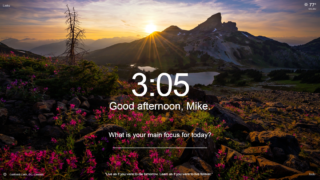 Coming in at #2 on our list is Momentum. This extension is one of my favorites. Although it may not seem like it does much at first, it can be pretty powerful, or just pretty if you need a window into the world outside of law school studying. Momentum turns each new tab you open into a personal getaway/dashboard that includes your daily to-do list, connection to productivity apps, weather, inspirational quotes, favorite links, and it's all set over a beautiful landscape backdrop that changes daily, just in case you get tired of view from the law library windows.
3. Awesome Screen Shot App
No that's not a sales pitch, that's the name of the app. It's a fun and easy way to annotate your screenshots or photos. You can blur, crop, or do whatever you want and it's all in a free and easy-to-use editor right in your browser. If you have photoshop, you probably don't need this, but if you don't, this might come in handy.
Honorable Mention

Ok, so I know I said 3 extensions, but Boomerang merits a mention. Have you ever sent a super important email, fully intending to follow-up on if you didn't hear back from the recipient in a few days, but then totally forgot? Well, Boomerang allows you to schedule messages to be sent or replied to at a later time. You can also track messages to make sure you stay on top of emails you need to follow up with. Additionally, Boomerang allows you to set follow-up reminders right within Gmail, so emails pop back up in your inbox if you haven't heard back from the recipient within the desired timeframe. However, the free version only allows you to track 10 emails a month, but it's helpful if those 10 happen to be super important.
Hope you enjoy one of these or other Chrome extensions in 2017! As always, remember to browse safely with Pepperdine's Browser Check. Happy browsing!