YouTube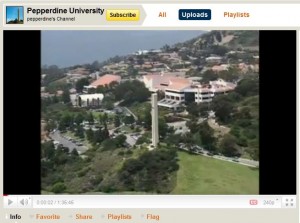 Online video provides excellent content for the classroom; however, online sources are unreliable for live playback. For live video playback we recommend downloading the file locally prior to class time, for the best in class experience. For the popular website YouTube, we recommend the service http://saveyoutube.com
When viewing the movie on YouTube simply add the word save to the URL in your address bar: http://www.saveyoutube.com/watch?v=4b0NbslsGoo to download the video, saving to your desktop and then double-click to view the movie. Call our hot-line for assistance x7425
DVD/VCR

Additionally, classrooms are equipped DVD/VCR combination units to take advantage of the Law Library's great collection of videos. Jessica Drewitz is always expanding the collection, feel free to request any title via email at jessica.drewitz@pepperdine.edu

You can search our collection directly from the library catalog available on the web at http://law.pepperdine.edu/library
Search by title is recommended.
Video Conferencing
Did you know we can bring guest speakers from around the world directly into any classroom via video conference?
Information Services provides a wide selection of connection methods from Skype support to enterprise class video conferencing via our Polycom VSX8000. Just contact David Dickens via email at david.dickens@pepperdine.edu and we'll handle all the technical details.