Most departments scale down during summer, not so with Information Technology folks. This is the time to turn the world inside out and upside down. We have grand plans for better services in the coming year and unlike corn they don't grow on their own.
This is a follow-up to my previous post about Pepperdine's new electronic file storage offering.
Since last I posted on this new service Pepperdine IT has quietly been skipping lunch to make improvements. First, the web interface is now conveniently available through Wavenet's toolbar.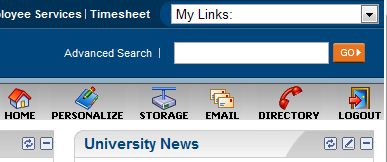 There between Personalize and Email, just click to get to your web access.
What if you'd rather not install the Xythos client software as we shared before? How about following these instructions for quick and reliable access in Windows:
To create a Web Folder in Windows XP:
In Windows XP, click on "Start" and then click on "My Network Places".
Under Network Tasks, click Add Network Place.
When prompted, "Where do you want to create this Network Place?", choose "Choose Another Network Location" and click on "Next".
In the Add Network Place Wizard, follow the instructions to add a shortcut to a folder. The address of that folder will be "https://storage.pepperdine.edu/users/<user_name>", replacing <user_name> with your university network id.
When prompted for a user name and password, type in your user name and password. Click "OK".
Next, name your Network Place and select "Next". When you have successfully added the shortcut, select "Finish". An icon for your new shortcut will appear in the My Network Places folder.
(excerpted from the IT HELP Xythos page)
Anyway you prefer to access this new service is fine with us. Start using it today for good data protection and peace of mind.