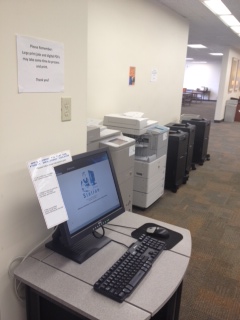 Please note: As of May 19, 2017, the School of Law will be adopting the university-wide copier/print system for students.  All student printing will go through the Sharp copier/printer units.
The Sharp copier/printing system is accessible to all students at Pepperdine University and at all Pepperdine University campuses in Southern California (this includes the Calabasas location which may be a terrific place to study for the Bar Exam!).
The following Text will be changed on May 19, 2017 (after 2017 Spring final exams)
Pepperdine University Law Students are granted 500 pages (no additional cost) for black and white printing at the beginning of each semester.
If you are interested in printing in color, please see THIS PAGE.  The color printing is $0.35 per side of a page and is through the Law Library Sharp Multi-Function Device (fancy copier) and uses a completely different system where the charges go to your Pepperdine ID card.
Black and White Printing is $0.06 per page and is charged to a Law School specific printing account that is NOT tied to your ID card. To add print credit to your account CLICK HERE   (Note that once you add credit, the amount is non-refundable but it does carry over between terms.)
Mac Users, CLICK HERE for the Black and White printer. For color see THIS PAGE.
Please note that the Macintosh installer only works for Macintosh 10.7 and higher. If you have an operating older than 10.6, you will have to either upgrade your system or use our Mobile Print Service FOUND HERE. 

Microsoft Windows 64-bit Users, CLICK HERE for the Black and White printer
Microsoft Windows 32-bit Users, CLICK HERE for the Black and White printer
If you're a Windows PC user and unsure which installer to use the following directions.
Click on the Start button and then Control Panel.
Click on the System and Security link.Note: If you're viewing either the Large icons or Small icons view of Control Panel, you won't see this link. Just click on the System icon and then proceed to Step 4.
In the System and Security window, click on the System link.
When the System window opens, titled as View basic information about your computer, locate the System area below the oversized Windows logo.
In the System area, look for System type among the other statistics about your computer.The System type will report either a 32-bit Operating System or a 64-bit Operating System.