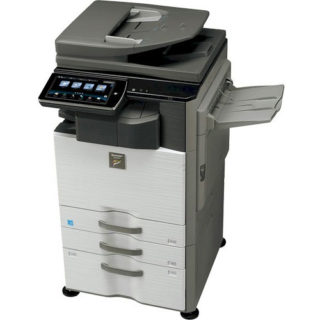 Pepperdine has the latest multi-function devices (MFDs) from Sharp (you can still call them copiers but they're much more).
Students, Faculty, Staff, and Guests can print, scan, or copy on the new MFDs using a different procedure than was standard in the past.  Students pay for their printing through their Student ID card.  See this page:http://community.pepperdine.edu/it/services/copyservices/printsetup.htm
Prior to this update students could not print to the copiers in the University Library public areas.  This has now changed.  All students can print to all Sharp MFDs in public areas at any of the Pepperdine Southern California campuses.  This includes the  color-enabled Sharp MFD in the Law Library public area.  Printing in color or black and white is possible and a document with a mix of color and black and white pages will only incur the higher cost for color on the pages where there is color.  This MFD is the only option for color printing for students in the Law Library.
The initiative that includes the installation of these Sharp MFDs includes efforts university-wide to significantly reduce the number of individual and workgroup printers (which in aggregate are vastly less efficient and more expensive to maintain than the new copiers).