So you finally finished that 3 hour exam. You've uploaded your exam file and got the green "All Clear" sign (cue enormous sigh of relief). Congratulations! You're home free at last, except apparently Examsoft decided to do some redecorating while you were taking your exam because your desktop background is now an Examsoft selfie (talk about shameless advertising). Not to worry, we have a solution for that.
Examsoft has released several solutions in case something happened during your exa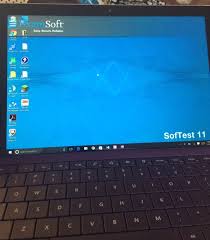 m that causes your computer to be stuck in a perpetual loop of changed backgrounds or black screens. For more information visit the below referenced articles for help fixing whatever ails your computer post exam.
Also, just remember, this is the exact same software used for your BAR exam, so it's best to sort out all these problems now, rather than when you're sitting for the biggest stress test of your life.
Fixing a Black Screen on Windows 8 & 10 Laptops and Windows 7 Laptops
Remove Examsoft's Background Image on PC or Mac
You can also check out these Before, During, or After exam support tips pages.
And if you get Really lost, give Examsoft's tech support a call at 866.429.8889 or via email at support@examsoft.com. They're just waiting to help!